EFFETS DE COULEUR EN SEULEMENT 15 MINUTES
CRÈME POUR MÉCHES COLORÉES ET EFFETS CONTRASTE SANS DÉCOLORATION PRÉLIMINAIRE
Le nouveau SERVICE MODE-SALON pour exprimer : PERSONNALITÉ, ORIGINALITÉ, SIMPLICITÉ, HARMONIE CHROMATIQUE
Idéal pour bases sombres naturelles ou colorées
Améliore le style de chaque coupe
Intensité et tenue des réflexes dans le temps
Un service couleur simple, complet, rapide, en un seul geste, en seulement 15 MINUTES.
Contrastes de lumière et couleur harmonieusement ensemble pour obtenir un effet de couleur aux multiples facettes, dynamique et naturelle. C'est un service simple, rapide et complet de couleur qui crée des émotions et des sensations uniques et personnelles.
Formulés avec des techniques de pointe en tenant compte des normes de la mode actuelle. Proposés pour faire ressortir la douceur, le style, la sécurité, la classe, le sexy de chaque femme.
GOOSEBERRY
POMEGRANATE
MAGMA
CORAL
SERKIS
TROPICAL
EDOKORO
JADE
8 NUANCES qui transforment la qualité du résultat en vivant charme.
Toutes nuances assurent le délicat équilibre physiologiques et structurel des cheveux améliorant. la couleur avec naturel.
Crème pour les mèches et les contrastes pour un effet multi chromatique en harmonie de couleur aux liposomes végétaux et cire d'abeille qui ne nécessite pas de pré éclaircissements ou décolorations.
Multichromatic-effect harmochromatic hairstreaks and contrasts cream with vegetal liposomes and beeswax not requiring any prior bleaching.
PRÉPARATION
Produit à usage professionnel, il contient deux tubes, chacun de 40 ml pour no. 1 application. Dans un récipient non métallique, verser la solution n ° 1 et n ° 2 (2 x 40 ml du produit) et mélangez-le à la même dose (80 ml) avec Oxibes à 20 vol. (6 %) ou 3 vol. (9 %) ou 40 vol. (12 %) selon le degré d'éclaircissement ou le résultat souhaité.
APPLICATION
Appliquer le produit avec un pinceau sur les cheveux secs, non lavé, isoler les mèches à colorer. Éviter tout contact avec la peau. Enveloppez chaque mèche avec des feuilles d'aluminium BES ou autre matériel similaire.
APPLICATION SUR CHEVEUX NORMAUX
Utilisez Oxibes pour 20 vol. (6 %) 30 vol. (9 %) 40 vol. (12 %).
20 vol. (6 %) ton sur ton pour couvrir ou donner des réflexes aux tons clairs
30 vol. (9 %) pour valoriser les réflexes et améliorer le pouvoir éclaircissant
40 vol. (12 %) pour ultra éclaircissements ou fonds très sombre.
APPLICATIONS SUR CHEVEUX COLORÉS
Pour meilleurs résultats il est recommandé d'appliquer le produit sur la couleur uniforme (voir le tableau champ d'application) et utiliser Oxibes 30 vol. (9 %) ou 40 vol. (12 %). Pour un travail régulier, nous recommandons que vous tout d'abord effectuez le teinture désiré et puis appliquez BES KONTRAST. Pour une application Tandem ou combinée de la couleur et Bes Kontrast, nous vous recommandons de poser le produit sur la parte colorée, pour ne pas avoir un effet éclaircissant inégale. Il est possible d'utiliser Bes Kontrast avec toutes les nuances des couleurs permanentes et semi- permanentes BES : naturel, or, cuivre doré, acajou, rouges profonds, violets, rouges violetes, tabac. Veuillez noter : le résultat sur des cheveux colorés avec des fonds très sombres est moins perceptible.
TEMPS D'ATTENTE
15 MINUTES avec la SOURCE de chaleur
30-35 minutes pose normale
40-45 minutes sur cheveux colorés ou extrêmement sombre
RECOMMANDATIONS
Il est important que le produit n'entre pas en contact avec les cheveux qui ne sont pas intéressés a l'application ni au cours du travail technique, ni pendant le rinçage. En particulier sur les bases du blond foncé au blond platine.
COLOURED STREAK EFFECT
To obtain coloured streaks with different nuances on natural or color treated hair.
FLASH EFFECT
To achieve vibrant color on the same series or to similar series.
TOUCH EFFECT
By using a comb or a brush, you will obtain points of light on coloured hair, natural or directly on the laying dye, to balance brightness and light everywhere on the hair.
HIGHLIGHTS EFFECT
To achieve an harmonious cromatic contrast effect distributed over the hair (ideal for light nuances).
BAND EFFECT
To achieve colour bands with a superior geometrical effect.
COLOUR CONTRAST EFFECT
To obtain strong contrasts and impact on natural or dyed hair (e.g. red upon black, red on blue, red on platinum base colours).
GLAZING EFFECT
To achieve through a "zigzag" system a transparency colour glazing.
VELVET EFFECT
To achieve a velvety colour effect directly on the laying dye, with the techniques used to make hairstreaks.
MULTICHROMATIC PARTIAL EFFECT
To obtain "feathering" on the hair ends, to add value to the fringe or to highlight special hair spots.
MARBLE EFFECT
To achieve, on natural or dyed hair, a marble effect by means of aluminium sheets that close the streak treated with the contrast colour with a « squeezing » movement.
HOW IT SETTLES ON THE HAIR
THE AMMONIA CONTAINED IN THE DYEING CREAM OPENS THE HAIR SCALES AND ALLOWS THE DYE MOLECULE TO SETTLE BY FITTING BETWEEN THE CORTEX AND THE CUTICLE.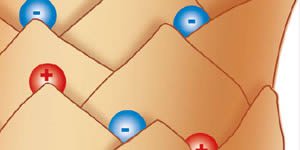 HOW IT ATTACHES TO THE HAIR
THE STRONG TIE THAT IS CREATED BETWEEN THE HAIR AND THE DYE MOLECULE IS GIVEN BY A PHYSICAL PROCESS BASED ON A STRONG BIPOLARITY (POSITIVE AND NEGATIVE CHARGES).
The scent of fruit
The olfactory note of the product is gently fruity, made up of a leading note (green apple) and two trailing notes (gooseberry and kiwi)
Vegetal liposomes
The content of six vegetal liposomes gives the hair a perfect cosmetic character. The passage of functional substances (active principles) from the spherical liposome system to the cellular structures takes place in an easy and natural manner, since liposomes can easily interact with the hair structure, with which they present a high affinity in terms of composition and cell aggregation.
Beeswax
The beeswax contained in the cosmetic cream rebalances on the hair stem the hydrolipidic value, a fundamental factor to disentangle the hair and to ensure softness and beauty.