COLOUR EFFECT IN JUST 15 MINUTES
CREAM FOR COLOURED HIGHLIGHTS AND CONTRAST EFFECTS WITHOUT PRIOR BLEACHING
The new FASHION-SALON SERVICE to express: PERSONALITY, ORIGINALITY, SELF-CONFIDENCE, CHROMATIC HARMONY
Ideal for natural or coloured dark base colours
It adds value to each haircut style
Intensity and resistance of tints over time
A simple, rapid and complete colour service in one move and in just fifteen minutes
Contrasts of colour and light harmoniously associated to achieve a faceted, vibrating, natural chromatic effect. It is a simple, quick and complete colour service that creates unique and personal sensations and emotions. Formulated according to the latest techniques, in consideration of the current fashion trends. Proposed to exalt every woman's sweetness, style, self-confidence, class and sensuousness.
GOOSEBERRY
POMEGRANATE
MAGMA
CORAL
SERKIS
TROPICAL
EDOKORO
JADE
8 nuances that will transform the quality of the end result in living charm. Each nuance respects the delicate physiological and structural balance of the hair so as to naturally improve the colour.
Multichromatic-effect harmochromatic hairstreaks and contrasts cream with vegetal liposomes and beeswax not requiring any prior bleaching.
PREPARATION
Product for professional use, contains 2 tubes of 40 ml each for no. 1 application. Pour the solution no. 1 and no. 2 (2×40 ml of product). In a non-metal containr and mix in equal portion (80 ml), with Oxibes at 20 vol (6%) or 30 vol. (9%) or 40 vol. (12%) depending on the desired result.
APPLICATION
Apply the product using the brush on dry, unwashed hair, isolate the locks to be dyed. Avoid all contact with the skin. Wrap each hairstreak in a Deco Bes Mèches aluminium sheet or similar materials.
APPLICATION ON NORMAL HAIR
Use Oxibes at 20 vol. (6%), 30 vol. (9%), 40 vol. (12%) 20 vol. (6%), shade after shade, to cover or give light tints to the hair, 30 vol. (9%) to enhance the tints, increase the bleaching power 40 vol. (12%) pour ultra bleaching of very dark base colours.
APPLICATION ON COLOURED HAIR
To achieve an excellent result, we suggest you apply the product on an even colour (please stick to the application range table) and use Oxibes at 30 vol (9%) or 40 vol. (12%). For a scheduled work, we suggest you apply the desired colour first and eventually apply BES KONTRAST. For a tandem or combined application of dye and Bes Kontrast, we suggest you place the product on the coloured part, to avoid all non-homogeneous bleaching effect. You can use Bes Kontrast with all Bes permanent and semi-permanent dying nuances: natural, golden, golden copper, mahogany, intense reds, violet, violet reds, tobacco.
WARNING
The end result on coloured hair with very dark base colours will be less visible.
LAYING TIME 15 MINUTES WITH HEAT SOURCE
30-35 minutes with normal laying
40-45 minutes on coloured or very dark hair.
SUGGESTIONS
It is important for the product not to enter into contact with the hair that is not affected by the application during the technical work as well as at the rinsing stage. This is much more true on base colours that range from dark blond to platinum blond.
COLOURED STREAK EFFECT
To obtain coloured streaks with different nuances on natural or color treated hair.
FLASH EFFECT
To achieve vibrant color on the same series or to similar series.
TOUCH EFFECT
By using a comb or a brush, you will obtain points of light on coloured hair, natural or directly on the laying dye, to balance brightness and light everywhere on the hair.
HIGHLIGHTS EFFECT
To achieve an harmonious cromatic contrast effect distributed over the hair (ideal for light nuances).
BAND EFFECT
To achieve colour bands with a superior geometrical effect.
COLOUR CONTRAST EFFECT
To obtain strong contrasts and impact on natural or dyed hair (e.g. red upon black, red on blue, red on platinum base colours).
GLAZING EFFECT
To achieve through a "zigzag" system a transparency colour glazing.
VELVET EFFECT
To achieve a velvety colour effect directly on the laying dye, with the techniques used to make hairstreaks.
MULTICHROMATIC PARTIAL EFFECT
To obtain "feathering" on the hair ends, to add value to the fringe or to highlight special hair spots.
MARBLE EFFECT
To achieve, on natural or dyed hair, a marble effect by means of aluminium sheets that close the streak treated with the contrast colour with a "squeezing" movement.
HOW IT SETTLES ON THE HAIR
THE AMMONIA CONTAINED IN THE DYEING CREAM OPENS THE HAIR SCALES AND ALLOWS THE DYE MOLECULE TO SETTLE BY FITTING BETWEEN THE CORTEX AND THE CUTICLE.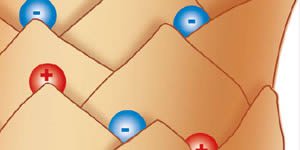 HOW IT ATTACHES TO THE HAIR
THE STRONG TIE THAT IS CREATED BETWEEN THE HAIR AND THE DYE MOLECULE IS GIVEN BY A PHYSICAL PROCESS BASED ON A STRONG BIPOLARITY (POSITIVE AND NEGATIVE CHARGES).
The scent of fruit
The olfactory note of the product is gently fruity, made up of a leading note (green apple) and two trailing notes (gooseberry and kiwi)
Vegetal liposomes
The content of six vegetal liposomes gives the hair a perfect cosmetic character. The passage of functional substances (active principles) from the spherical liposome system to the cellular structures takes place in an easy and natural manner, since liposomes can easily interact with the hair structure, with which they present a high affinity in terms of composition and cell aggregation.
Beeswax
The beeswax contained in the cosmetic cream rebalances on the hair stem the hydrolipidic value, a fundamental factor to disentangle the hair and to ensure softness and beauty.